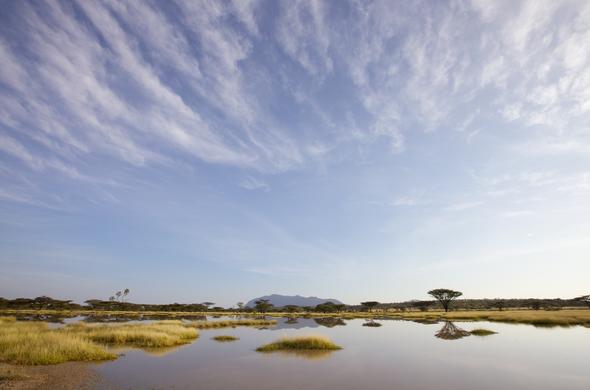 Joys Camp is located at the original campsite of Joy Adamson of "Born Free" fame. Shaba National Reserve is the setting of her last book "Queen of Shaba". This book is about how she released Penny the Leopard back into the wild.
Shaba offers an authentic wilderness experience on the remote Northern Frontier of Kenya. It's got it all, superb scenery, big game and a nomadic tribe called the Boran. Shaba, Samburu and Buffalo Springs share the same eco-system fed by the Ewaso Nyiro River. The big cats, Elephant herds, Buffalo and many rare species adapted to living in arid areas all reside in this region.
In this area you'll see dramatic scenery including semi-desert, oasis springs, Doum palms, volcanic rocks, sacred mountains and the winding Ewaso Nyiro River.
Directions to Joys Camp, Shaba National Reserve, Kenya
Shaba is situated north of Mount Kenya and the Laikipia District. It is located between the towns of Isiolo and Archers Post and adjoins the Samburu and Buffalo Springs Reserves. Shaba can be reached on fly-in and drive in safaris. There is a local airstrip in Shaba.